Girona Food and Market Tour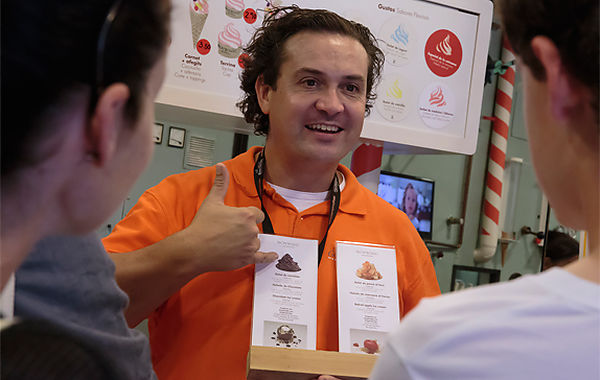 Tour description
Discover local food, wine and the (hi)story behind the Catalan Mediterranean day-to –day life on this guided morning tour!
Start your culinary exploration of medieval Girona on this mouth-watering guided walking tour and see the cultural highlights of our magnificent city
On this "all in" morning tour you will discover local food, tapas, wine and the (hi)story behind the Mediterranean day-to –day life together with your local guide
On a fun and educational way, our passionate foodie guide will lead you through the old city, showing you the hidden gems and tell you the stories and legends behind the Catalan culture, food, and culinary tradition.
You will visit the local, indoor food market , bustling bakeries, traditional family-run local eateries and will meet artisan food producers (some of them over 100 years old!).
And of course, how can you leave our country without tasting the Spanish delicacy Jamon Iberico, paired with a chilled glass of cava
From a Master carver you´ll learn about the different types (and parts!) of Spanish ham... and how to carve the perfect slice!
As Girona officially is home to one of world´s best restaurants ´El Celler de Can Roca´, we will finalize our tour with a hot ice cream-filled bun at Rocambolesc, Girona´s most famous home-made icecream shop - inspired by Willy Wonka - with seal of quality by the youngest of the Roca brothers, pastry chef Jordi Roca.
Let´s experience Girona´s authentic food, wine & culture together and let us guide you …
More information or special requests? Please contact us - we are looking forward to hearing from you!
Tour info
± 4 hours guided walking tour of Girona (including stops)
Girona Food Tours Shop - carrer Nord 6 bajos (right in front of Hotel Nord 1901)
Tuesday– Saturday 10hrs – 14hrs.
No. of people: min. 4 – max. 10
Language: English
Price:
Adults
EURO € 69
Children under 12 years old
EURO € 59
(VAT included)
Book now
Free for non-eating children under 5 years old
Free cancellation up to 48 hours prior the tour
The activity requires a minimum of 2 participants.
If the minimum is not met, you can book an alternative date ot request a full refund.
In case of private tour of 2 people only: a supplement is requiered of EURO 35pp.




Bites & Tastings
1 small bottle of water at the beginning of the tour
Multiple tastings of different styles of tapas at "off the tourist radar" establishments.
Learn about locally produced selected wines (DO Empordà, delicious Cava and sweet ratafia!)
Local pastries at artisanal Bakery (including coffee or tea!)
A journey of top quality chocolate…
Regional specialties like esqueixada, escalivada and anchovies at the indoor market
Tasting of different regional premium cheeses (goat, sheep, cow)
Hamsession of exclusive Iberico ham (savor 3 different ones) and learn how to cut the perfect slice!
The classic in Catalan cuisine: pa amb tomàquet
Taste the premium Sirloin Beef from Girona served with season fruit at an old farmhouse
Homemade patatas bravas Olive oil - discover the world of liquid gold
Our mystery dishes at an old Catalan masia restaurant Traditional Turró (nougat!) in a historic turrón shop in Europe´s best preserved Jewish quarter
A hot, ice cream-filled bun at Rocambolesc, Girona´s most famous home-made icecream shop by pastry chef Jordi Roca
And much more…Undoubtedly enough for a satisfied belly of wonderful flavors and food.
Includes
"all in" price
A fun and passionate local foodie guide
1 small bottle of water at the beginning of the tour
Locally produced wine (DO Emporda) and water
Wheelchair accessible
Does not include
Gratuities (not mandatory, and only if you are happy with your local foodie)
Variations on the program